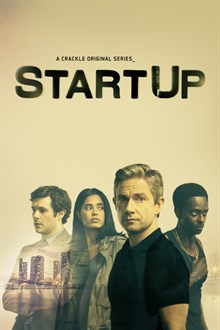 StartUp @ Wikipedia
StartUp @ IMDb
A drug dealer, a hacker and a banker walk into a bar. Well, they don't actually walk into a bar. But they do meet. This show came only accidentally across my radar so my knowledge of what it's actually going to be about is a bit sketchy. I can only tell you what happened in the pilot episode and then infer what's going to happen next.
The banker played by The O.C.'s Adam Brody doesn't seem too happy in his job. But he is even less happy when his father walks back into his life and asks him to launder some money for him.
The dad (who has disappeared by the end of the pilot so I don't know his actual role in the things to come) is a player in the drug trade and was tracked down by a federal agent played by Martin Freeman (Sherlock, The Hobbit). Phil Rask (Freeman) tried to extort the dad which is why he went to his son in the first place.
The money Nick Talman (Brody) is expected to launder belongs to a Haitian drug lord who appears to live by at least some kind of honour and now finds his money gone and is understandably pissed.
The final player is a young woman and hacker (in the classical sense of the word), played by Otmara Marrero. She has developed a new digital currency, far better than Bitcoin per her own words. She's trying to market it to the bank Talman is working at but they decline the offer. Talman on the other hand is suddenly very interested to invest.